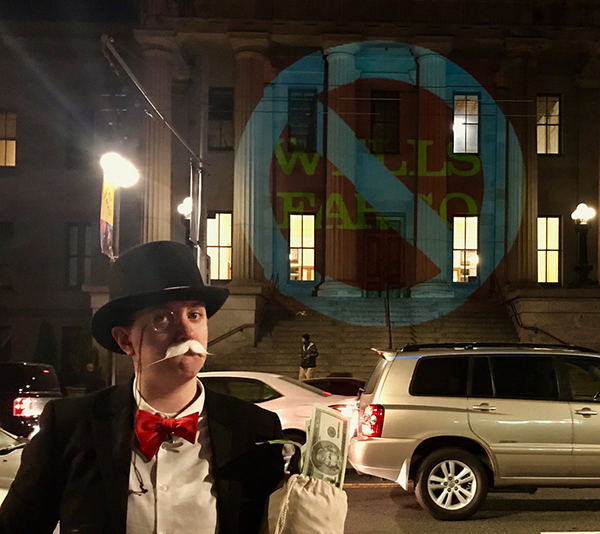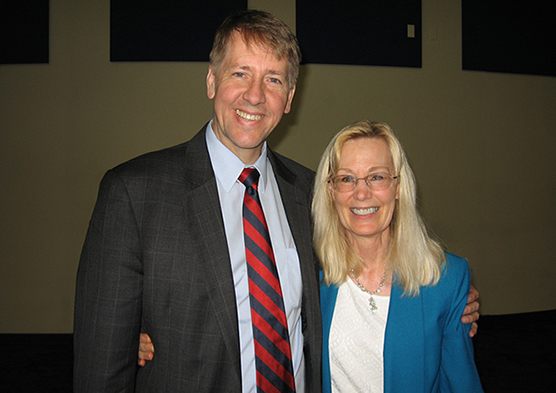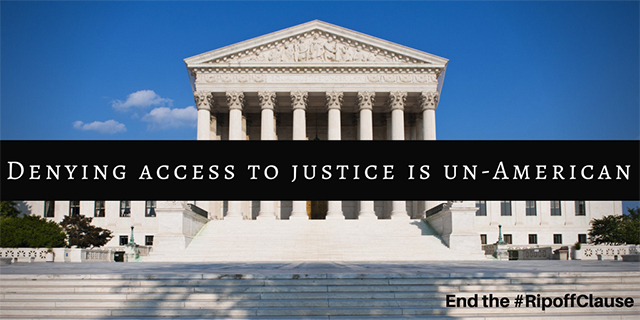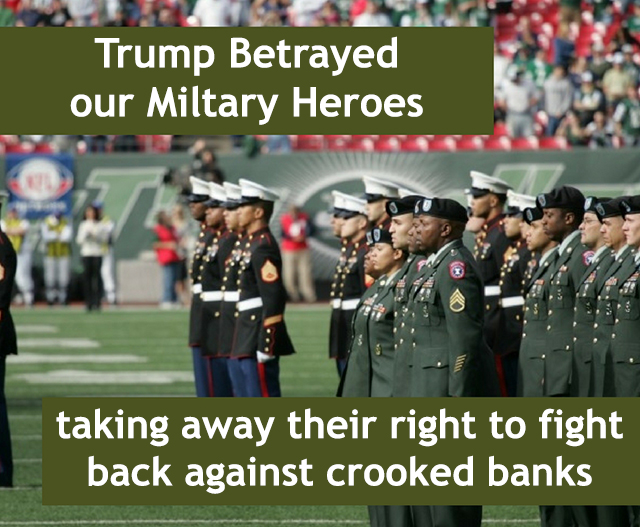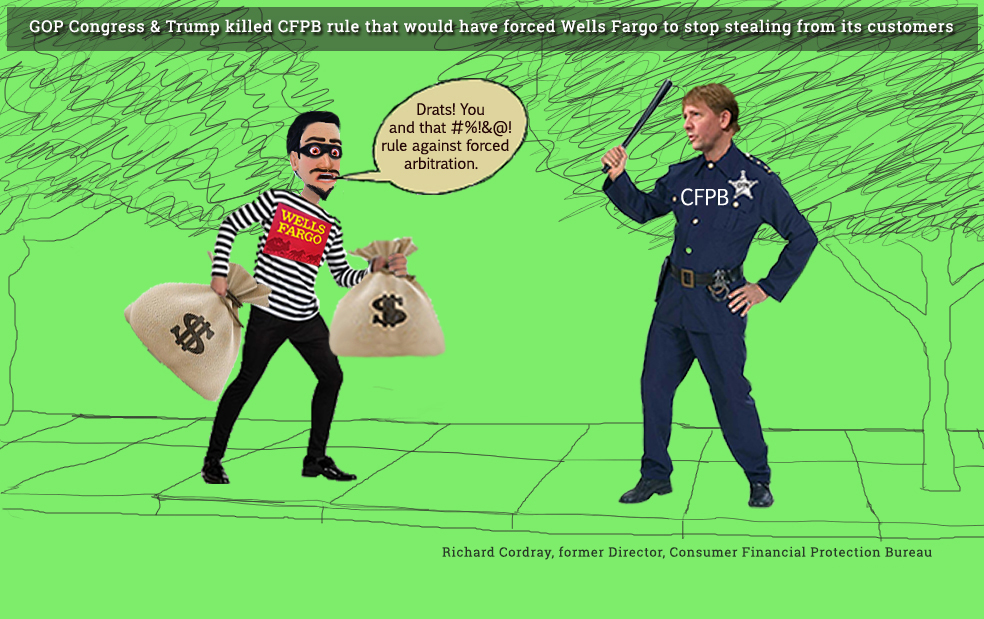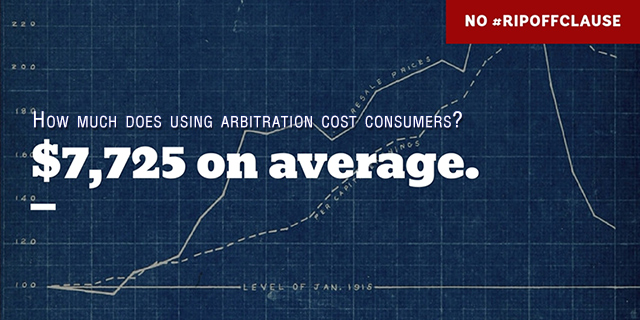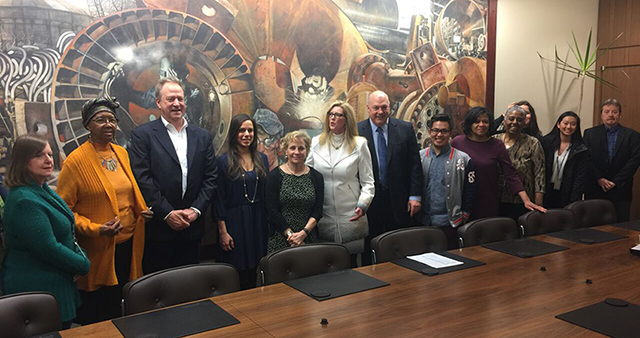 Divest from Gun Profiteering / Wells Fargo
San Francisco Chronicle
by Steve Heilig, Public Health Director for the San Francisco Marin Medical Society
"It's time to practice what we preach. I am a 35-year customer of San Francisco's Wells Fargo bank. I've liked that my bank is based here in my home city. However, I was dismayed to read in the New York Times last month that 'Wells Fargo is the largest financier in the nation of the gun industry and is the main bank for the National Rifle Association.' Further research reveals that Wells Fargo has lent more than $400 million to the gun industry in the past five years -- since the slaughter of schoolchildren at Sandy Hook Elementary School -- and has remained unapologetic about such practices.
I have attempted to remain a loyal customer despite the Wells Fargo's scandals of recent years, pending the new leadership's efforts to confront those. But as a public health professional and medical ethicist, I cannot overlook this link to an industry partly responsible for the ongoing gun violence in our nation.
Gun violence is a public health and medical epidemic that cannot be supported, and 'thoughts and prayers' aren't nearly enough. Thus I wish to announce publicly my intent to divest all my resources from Wells Fargo, and to urge others to do likewise. Beyond talking to your own adviser and banker, there are resources online to help do this;
goodbyegunstocks.com
is just one."
Read more:
Divest from Gun Profiteering / Wells Fargo
Update:
Wells Fargo loses teacher's union AFT over ties to NRA, guns
---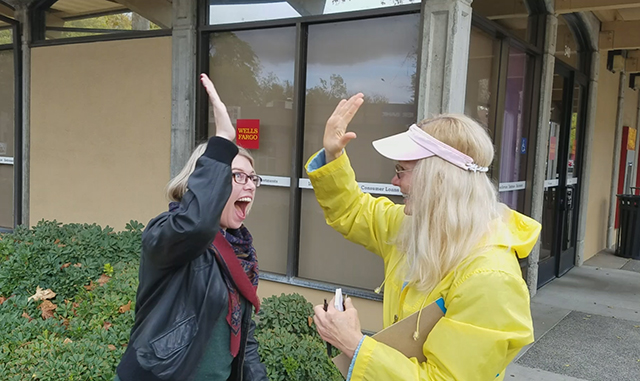 Trump signs Act to take away Americans' Constitutional right to fight back in court against crooked banks that violate the law and steal from their customers.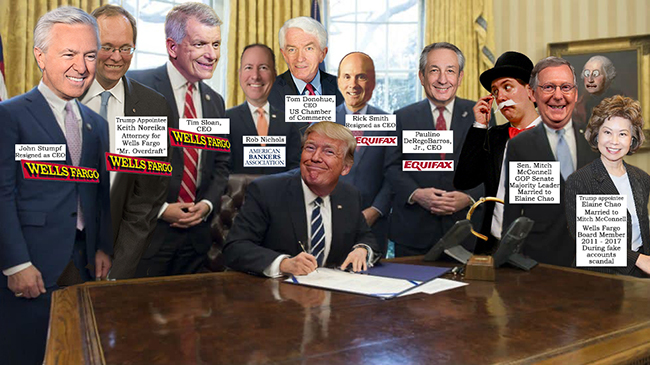 This anti-consumer Act was opposed by over 370 groups that represent consumers, seniors, workers, and our nation's military Servicemembers and veterans. Republican Senate Majority Leader Mitch McConnell made taking away consumers' rights a huge priority. His wife Elaine Chao served on the Board of Directors of Wells Fargo while the bank engaged in many illegal activities, including creating fake bank accounts, charging for unwanted auto insurance policies, and ripping off military personnel serving in war zones.

---
If Wells Fargo were your boyfriend...
---
Trump recently signed legislation that was
opposed by Military, Veterans
, and consumer organizations, allowing Wells Fargo and other banks that engage in massive fraud to get away with cheating millions of customers, by imposing forced arbitration on them through "ripoff clauses" that are often hidden in the fine print. According to Pulitzer-Prize winning journalist Michael Hiltzik, of the Los Angeles Times,
"Here's why Wells Fargo forces its customers into arbitration: It wins most of the time."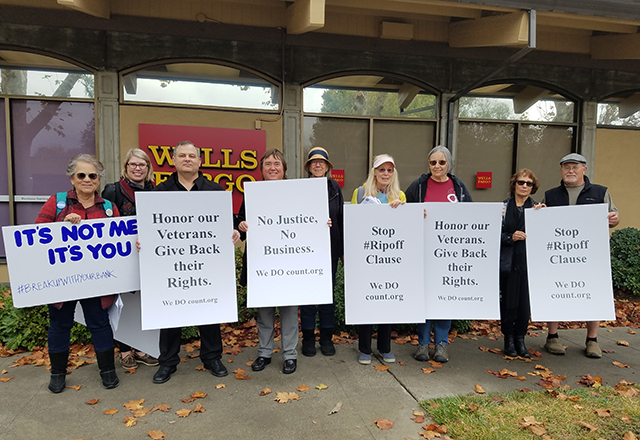 The protesters urged people and businesses with accounts at Wells Fargo to switch to credit unions, where typically there is no forced arbitration clause. Sacramento consumer Megan Varvais closed her accounts with Wells Fargo. She recently opened up new accounts at Golden One. CARS released the results of new research into the 131 California-chartered credit unions, which found that most credit unions in California do not take away their customer's rights to sue or to join a class action.
Wall Street and Wells Fargo made it a top priority to kill a rule issued by the Consumer Financial Protection Bureau that would have restored consumers' freedom to choose whether to band together and take banks that rip them off to court, or to pursue claims in private, corporate-controlled arbitration, a rigged system that consumers extremely rarely even attempt to use.
Wells Fargo and other Wall Street banks are currently celebrating a huge victory against being held accountable by their victims, thanks to GOP Members of Congress, who voted in the dark of night, and President Trump, who signed the anti-consumer, anti-military legislation into law behind closed doors, killing the CFPB rule. Congressman Garamendi and all other Democratic members of Congress voted to save the rule and consumers' Constitutional rights.
Among Wells Fargo's victims:
active duty military Servicemembers, whose vehicles Wells Fargo illegally repossessed
, even when they had set up automatic payments before deploying to war zones. When military servicemembers experience financial readiness problems that harm their credit, such as vehicle repossessions, they may lose their security clearances, which can harm or even end their military careers. The loss of security clearances can pose a serious threat to our national security, as our nation desperately needs Servicemembers to be able to serve in the capacities they trained for, including in military intelligence, which requires high level security clearances.
A coalition of 29 military and veterans groups opposed the effort by Wells Fargo and other big Wells Street banks to overturn the consumer-friendly rule. The Military Coalition, which represents 5.5 million current and former servicemembers and their families, supported the Consumer Financial Protection Bureau's rule to free consumers to choose whether to take banks to court or to use private arbitration, calling forced arbitration an "un-American system wherein servicemembers are funneled into a rigged, secretive system."
After all but 3 GOP members of Congress sided with Wells Fargo, Equifax, and other big banks, and voted to overturn the CFPB rule, with Vice President Pence casting the tie-breaking vote, the American Legion urged President Trump to veto the measure, stating in a news release:
"Every servicemember and veteran should have the right and responsibility to confront predatory loan practices….Many financial institutions include mandatory pre-dispute arbitration clauses in financial contracts that bar servicemembers, veterans and others from bringing legal action to court or banding together in class action lawsuits to seek relief under federal or state law. Class action waivers are particularly damaging to servicemembers, who may not be able to challenge a financial institution's illegal or unfair practices individually due to limited resources, frequent relocation or being deployed overseas."
1
The Consumer Financial Protection Bureau studied 419 class actions and found $2.7 billion in relief over five years for consumers, with just 18 percent going to attorney's fees and expenses. That is, $2.2 billion, or 82 percent, went to consumers — a far cry from a penny. When banks cheat millions of people out of $100 each, it takes lawyers on consumers' side to fight back and, yes, they get paid more than $100 if they win — but only if they win.
"It's shameful that our nation's Commander in Chief sided with Wall Street, and failed to honor the military community's veto request. Now it's our mission to show our military heroes and veterans that we have their backs, even if he doesn't," said Rosemary Shahan, President of the non-profit consumer advocacy organization Consumers for Auto Reliability and Safety, based in Sacramento. Shahan was married to a Navy Judge Advocate General officer for 20 years, and is the daughter and niece of veterans of World War II.
"I'm breaking up with Wells Fargo because President Trump took away our right to fight back in court if we are ripped off, and now it's up to all of us to protect ourselves by not doing business with dishonest banks. I refuse to do business with a bank that has a ripoff clause and imposes forced arbitration," said Sacramento consumer Megan Varvais. "It's also important to me to support our Military Servicemembers and Veterans, who deserve to have the freedom to choose to take a bank that ripped them off to court."
Varvais successfully sued JP Morgan Chase as a leading member of a class action that forced Chase to refund over $110 million in illegal overdraft fees to its customers, most of them struggling low-income consumers and their families. Chase also was compelled to reform its practices, benefiting future customers.
Wells Fargo is currently fighting against having to refund illegal overdraft fees to consumers in other states. (More information about Megan Varvais, Wells Fargo and overdraft fees is
posted here
.)

"I was proud to wear my country's uniform and serve in the United States Marine Corps. Today I'm also proud of our military and veterans associations, which have been standing up for our nation's Servicemembers and their families, and veterans, against crooked banks like Wells Fargo, to preserve our freedoms and fundamental Constitutional rights. It's shameful that our nation's Commander in Chief failed to honor the military community's veto request. Now it's up to us to send crooked banks a message: This fight isn't over. They won that battle, but we the people will win the war," said Steve Baumann of Woodland, CA, a Veteran who served in the U.S. Marines from 1986-1990.
"My wife is a veteran, and I couldn't be more proud of her and her service. Today we're sending a clear message that we're not going to let Wells Fargo and other crooked banks keep ripping off consumers, including our military heroes and veterans. Wall Street may have won in Congress, but we're going to win in the end," said Linda Deos, a consumer attorney and Davis resident who specializes in representing consumers in bankruptcy cases.
While some GOP Members of Congress have claimed that somehow forced arbitration is "better for consumers," those claims ring hollow, particularly since many of them voted to grant auto dealers a special exemption from the Federal Arbitration Act, restoring their right to sue auto manufacturers or anyone else they choose, in a court of law.
GOP Senator Chuck Grassley of Iowa, the leading proponent for giving car dealers that special exemption, is now the Chair of the U.S. Senate Judiciary Committee, and voted against restoring the same rights to consumers that Congress granted to car dealers. At the time, he argued on the Senate Floor:
"When mandatory binding arbitration is forced upon a party, for example when it is placed in a boiler-plate agreement, it deprives the weaker party the opportunity to elect another forum. As a proponent of arbitration I believe it is critical to ensure that the selection of arbitration is voluntary and fair. The purpose of arbitration is to reduce costly, time-consuming litigation, not to force a party to an adhesion contract to waive access to judicial or administrative forums for the pursuit of rights under State law….
This legislation will go a long way toward ensuring that parties [car dealers] will not be forced into binding arbitration and thereby lose important statutory rights. I am confident that given its many advantages arbitration will often be elected. But it is essential for public policy reasons and basic fairness that both parties to this type of contract have the freedom to make their own decisions [whether to sue or not] based on the circumstances of the case." -- Senator Chuck Grassley, (R-Iowa) Source: Statements on Introduced Bills and Joint Resolutions, United States Senate, June 29, 2001.
Video showing an active duty Army Sergeant, whose vehicle was illegally repossessed by Wells Fargo while he was serving in Iraq:
KSHB TV: Wells Fargo accused of unlawfully repossessing service member's car while deployed
---
"Wells Fargo accused of unlawfully repossessing Service member's car while deployed"
41 Investigators uncover hundreds of cases
KSHB - TV Kansas City
by Jessica McMaster
September 25, 2017
KANSAS CITY, Mo.
-- It's been six years since Army Sgt. Jin Nakamura was serving in a combat zone in Iraq.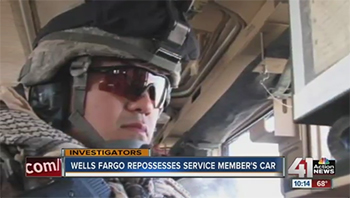 While fighting for his country, Nakamura learned he was about to be taking on a whole new battle back home.
"I was checking my credit history and saw that my car, I thought I was making payments to, was [repossessed]," Nakamura said. "I thought there was a mistake."
When Nakamura discovered the issue on his credit report, he said he contacted his lender, Wells Fargo, immediately.
"I tried to make the payment so I could have my car back when I got home," Nakamura said. "But, I found out they [Wells Fargo] auctioned my car a few days before."
Prior to deployment, Nakamura said he set up direct payments for his auto loan through Wells Fargo.
Wells Fargo didn't follow law, lawyer said
According to Nakamura, he was not given any warnings or notice that the payments were not going through.
Regardless of why Nakamura's auto loan defaulted, he and his attorney Bryce Bell said Wells Fargo broke the law by seizing his car....
Note: Sergeant Nakamura's contract with Wells Fargo -- from over 6 years ago -- did not include a "rip-off clause," so he remains free to sue Wells Fargo on behalf of himself and other military Servicemembers. But now Wells Fargo includes forced arbitration in all of its customer contracts, denying military Servicemembers the basic, fundamental Constitutional rights they fight to preserve, for all of us. Unlike a court of law, arbitration operates in secret and it's usually impossible to get discovery of telltale documents, like the ones that showed that Wells Fargo failed to even check the federal military database, as required by law, before seizing military Servicemembers' vehicles and auctioning them off.

These illegal practices are a threat to our national security. We ALL have a stake in ensuring that our military heroes and their families are not preyed upon by crooked banks.

When military Servicemembers are ripped off, and have financial readiness issues, they can lose their security clearances. When that happens, it not only harms them and their families, it also often means that we as a nation lose the benefit of their services, in extremely important and demanding capacities, where we desperately need them to do the jobs for which they were trained.
Watch video:
KSHB-TV Kansas City: "Wells Fargo accused of unlawfully repossessing Service member's car while deployed"
---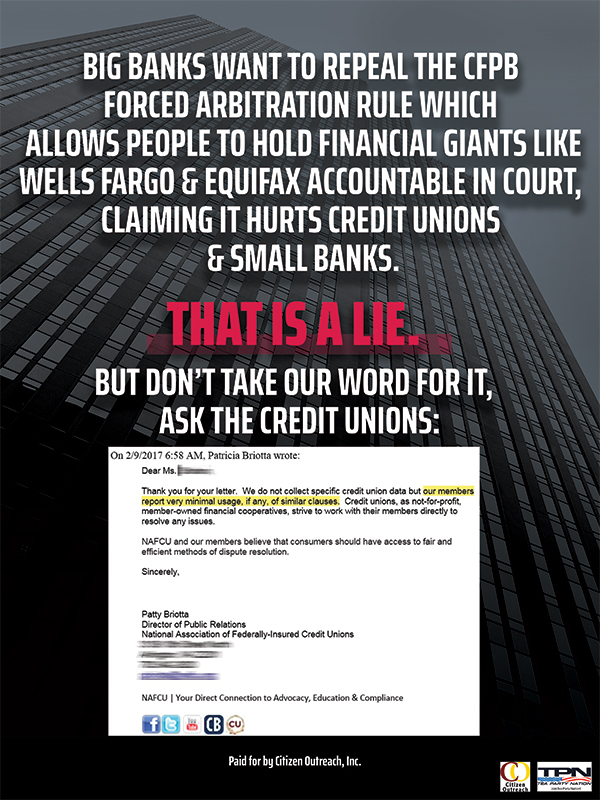 ---
"By a single vote, Republicans throw out years of work on consumer protection"
The Los Angeles Times
By David Lazarus
October 25, 2017
It took the Consumer Financial Protection Bureau five years to adopt a rule on forced arbitration by banks and credit card companies — five years of research, meetings with industry officials, public comment and crafting regulatory language.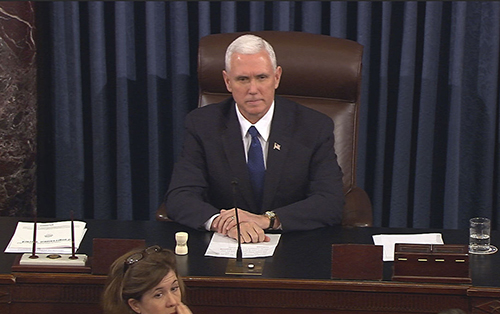 It took a single tie-breaking vote by Vice President Mike Pence for Republican lawmakers to overturn the rule this week, denying consumers the right to band together in class-action lawsuits over possibly unfair or illegal business practices.
"The repeal of the CFPB's arbitration rule reeked of the banking industry's heavy-handed influence over Washington's politicians," said Christine Hines, legislative director for the National Assn. of Consumer Advocates.
"Wall Street's power, including its tens of millions in donations to campaign coffers, made it easy for Senate Republicans to choose big banks and predatory lenders over the rights of their own constituents," she said.
Or as Merriam-Webster puts it:
Plutocracy / noun / plu·toc·ra·cy / plü-ˈtä-krə-sē: 1. government by the wealthy 2. a controlling class of the wealthy.
The business community has lobbied fiercely for limits to class-action lawsuits that can lead to multimillion-dollar judgments or settlements.
What's particularly repulsive here is the shamelessness with which conservatives framed the debate — pretending they were saving consumers from rapacious trial lawyers rather than doing the bidding of deep-pocketed corporate backers.
They also repeatedly painted the CFPB as a "rogue agency" that was unaccountable to the American people.
The reality is that the only ones going rogue were Republican members of Congress....
Within two weeks of the bureau adopting its rule, the House voted to repeal the measure using the Congressional Review Act, which allows lawmakers to overturn any rule written by a federal agency within 60 legislative days with just a simple majority vote. The Senate followed suit on Tuesday.
Before President Trump took office, the 21-year-old law was used only once, during the early days of President George W. Bush's administration.
Prior to this week's Senate vote, the Treasury Department took the remarkable step of issuing a report criticizing the arbitration rule as being anti-consumer.
The Treasury report was released Monday. Yet by a miraculous bending of the time-space continuum, it was cited a day earlier in a Wall Street Journal editorial concluding that the bureau's rule was "arbitrary and capricious," and that it "benefits no one but the lawyers who donate to Democrats."
Almost as if the Trump administration leaked the report to sway public opinion.
Do some class-action lawyers game the legal system for their own benefit? Absolutely. Do they often walk away with a big chunk of any settlement cash? Of course.
Here's the thing: At least class actions provide something for plaintiffs. Arbitration often provides bupkis, which is probably why businesses are so enamored of it.
They're also one of the most effective ways of holding companies accountable for bad deeds. A $100 arbitration payment won't cause much of a ripple. a $100-million class-action settlement will make an impression.
Still, all this talk of lawyers is misdirection. The real point is how best to protect consumers from greedy banks. The CFPB, after years of testimony, research and analysis, concluded that class actions should be one possible recourse.
As soon as Trump signs off on Congress' repeal bill, the Republican Party will have ensured that businesses maintain the upper hand in any dispute.
Oxford Dictionaries has a word for that:
Screwed / adjective / skroōd: in a difficult or hopeless situation; ruined or broken
.
Read more:
Los Angeles Times: "By a single vote, Republicans throw out years of work on consumer protection"
---
"5 things Wells Fargo Bank account victims should do"
Bankrate.com
August 16, 2017
"Consider switching banks"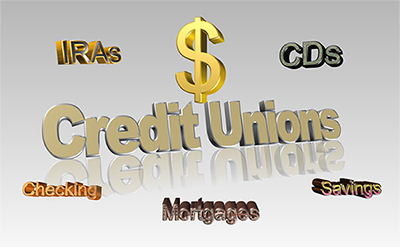 "If you've been a loyal Wells Fargo customer for decades, maybe you're ready for a fresh start.
Smaller banks and credit unions are less likely to force dissatisfied customers to use arbitration to resolve problems. Leaving your big bank may also lower the amount of fees you pay and give you higher yields on CDs and savings accounts.
'You're probably better off just going to a credit union or a community bank in your area where it would be unusual for you to encounter the kinds of monthly maintenance fees that the giant banks commonly charge,' Ridout says. 'And you probably would get a lot more from your savings.' "
Read more:
"5 things Wells Fargo account victims should do"
---
"Wells Fargo Customer: It felt like my car was held as extortion"
CNN
August 8, 2017
"Imagine keeping up with your Wells Fargo car loan payment every month -- but having your vehicle repossessed anyway. That's exactly what Samir Hanef said happened to him.
'My car was held as extortion and I was forced to pay for Wells Fargo's mistake,' Hanef told CNNMoney.
'The stress and anxiety ... are truly indescribable,' said the clinical social worker from Durham, North Carolina.
Hanef is a victim in the
latest Wells Fargo scandal
. He is one of up to 570,000 auto loan borrowers that Wells Fargo has said it may have enrolled and charged for car insurance without their knowledge. Wells Fargo has admitted that as many as 20,000 of those customers may have defaulted on their car loans or had their vehicles repossessed in part due to these unnecessary insurance costs.
Unlike most big banks, Wells Fargo's auto loan contracts allowed the lender to obtain collateral protection insurance on a customer's behalf if they failed to buy liability coverage themselves. Wells Fargo conceded that it bought insurance for some customers -- and charged them for it -- even when they had their own....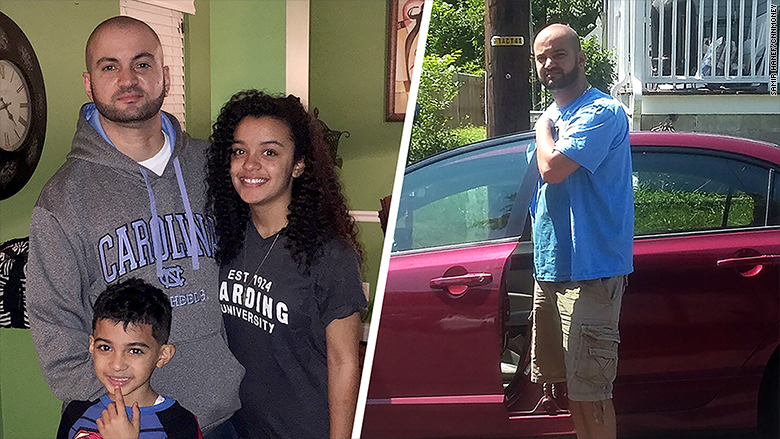 Hanef, a Wells Fargo customer for 23 years, said he took out a Wells Fargo auto loan in June 2014 to purchase a used Honda Civic. To be safe, Hanef said he always paid $300 per month, even though the bill was only $280.
The problem was that starting around March 2016, Wells Fargo raised his monthly bill to $374 because it added the collateral protection insurance. Hanef insists he had auto insurance, so there was no need for Wells Fargo to charge him for more....
He didn't know there was a problem until it was too late. Hanef's Honda Civic was repossessed on December 27, 2016, according to a letter sent by Wells Fargo to Hanef and viewed by CNNMoney. Losing his car meant that Hanef missed work and inconvenienced his patients, many of whom have mental health and substance abuse problems.
Before he got his car back on January 10, 2017, Hanef said he was forced to pay the repo fee and get current on the loan -- or risk losing the car for good.
'They told me the car would be sold on auction if I didn't pay the ransom,' Hanef said."
Read more:
CNN report:
"Wells Fargo Customer: It felt like my car was held as extortion"
---
"On people's right to sue, Trump's hypocrisy matches that of business"
Los Angeles Times
By David Lazarus
August 4, 2017
"Donald Trump has been party to nearly 4,100 lawsuits over the last three decades. About half the time he was the one doing the suing; the other half he was the one being sued.
But what makes Trump a complete hypocrite on this score — and aligns him with the business world — is that although he's never hesitated to use the legal system to protect his own interests, he's denied his employees and campaign workers the same right, requiring instead that they take any disputes to private arbitration.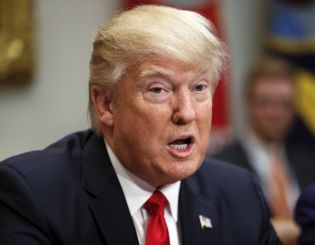 This is worth noting in light of Corey Lewandowski, Trump's former campaign manager and current advisor, taking to the airwaves the other day to call on the president's new chief of staff, John F. Kelly, to sack the head of the
Consumer Financial Protection Bureau
....
What's really going on here has more to do with Cordray having recently announced a rule that would make it easier for consumers to band together in class-action lawsuits against financial firms.
The rule is radioactive to banks, credit card companies and other lenders because, like Trump when he was running his businesses, these firms routinely include mandatory arbitration provisions in their contracts, forcing people to privately arbitrate rather than have a day in court.
Many businesses prefer arbitration because the process tends to be more favorable to companies than to consumers. Not coincidentally, businesses pay arbitrators' fees to decide cases.
Also, no business is willing to give up its own right to sue, which belies companies' argument that arbitration is more effective than litigation....
If Trump were half the populist he makes himself out to be, he'd embrace the CFPB's rule, which says a mandatory arbitration clause can't be used to deny customers of financial firms their right to join class-actions.
However, Trump clearly has no interest in a level playing field...."
Read more:
LA Times Column: On people's right to sue, Trump's hypocrisy matches that of businesses
.
---
Wells Fargo scams small businesses
The Consumerist
August 11, 2017
"The scandals and accusations continue to mount for Wells Fargo. This time, the banking giant is being accused of overcharging small businesses to process credit card transactions.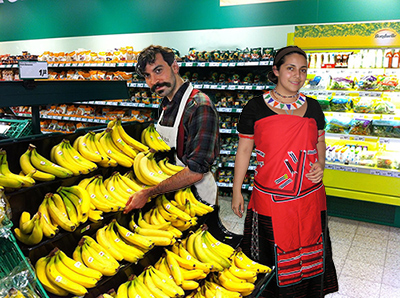 In a potential class action filed earlier this month in a New York federal court, a restaurant owner from Pennsylvania and a North Carolina tour company allege that Wells Fargo's Merchant Business Services operates an "overbilling scheme" that charged excessive and undisclosed credit card processing fees, along with 'massive early termination fees' the merchants tried to end their relationships with the bank.
According to the lawsuit, Wells misled prospective customers about the fees they would be charged for the card-processing service....
In the case of Pennsylvania-based Patti's Pitas, the restaurant claims that Wells Fargo charged it with 'exponentially more fees' that were not outlined in the fee schedule or program guide. These fees, the suit notes, often totaled hundred of dollars each month."
Read more:
The Consumerist: "Wells Fargo accused of overcharging small businesses"
---